ACCOMMODATIONS AREA INTERESTS WHERE IS MOUNTAIN, ND?
A SPECIAL HOLIDAY DETAILS/RATES
Guests to the 221 Melsted Place B&B experience first-class privacy, fine candlelight dining, superb service, timeless elegance and rich Icelandic history - along with all the other fine amenities the Bed and Breakfast has to offer.

Escape into timeless elegance as you visit this historic picturesque estate, 221Melsted Place Bed and Breakfast. Built in 1910, the Melsted Place Bed & Breakfast is part of the original Icelandic community of Mountain, North Dakota. Surrounded by fertile farm lands of the Red River Valley, this stately Bed and Breakfast offers a peaceful setting and fascinating history that captures your imagination and takes you to another time and place.


---
Celebration
This year marks our 10th Anniversary as a bed and breakfast and 100 years for this beautiful historic home. To celebrate, my long awaited cookbook is currently being printed. Titled "My Signature Dish", chef Lonnette Kelley To order www.morriscookbooks.com or 221melpl@polarcomm.com
---
Cavalier County Republican August 9th, 1999 - "Rather like a northern rendition of a scene from "Gone with the Wind", Saturday evening at 221 Melsted Place where the President of Iceland was staying, was the picture of grace and charm." "Melsted Place in particular...", the President said, "...It's fantastic, its beats international hotels."

The Cavalier Chronicle June 25, 1997 - "Guests receive royal treatment!...Elegance, style and a unique experience for all visitors."

Grand Forks Herald August 17, 1997 - "There is a secret in this tiny town, but the news is spreading. This mansion is set amid the wheat fields and rolling hills. It stands majestically on the prairie where the American flag waves from the pole in the front yard and purple morning glories climb the garden fence. Inside timeless elegance welcomes visitors to another time."
Searching For the perfect getaway for you and your friends?
Reserve the entire four guest chamber mansion, ideal for a 1-3 couple all-inclusive getaway or small retreat. Click here for details.
Nestled within the golden wheat fields and little churches, your dreams begin at 221 Melsted Place Bed and Breakfast. The Bed and Breakfast invites you to stroll through the hollyhocks, wonder the garden pathways to this romantic turn of the century mansion with all the amenities of a modern day Bed and Breakfast Inn. As the sun sets in this peaceful North Dakota valley, imagine no interruptions, soft candlelight, piano music and fine dining.
Later, relax in the spa, enjoy the fireplace, or indulge in a romantic limousine ride under the stars.
Looking for adventure, your visit may include a vintage Jeep tour exploring North Dakota's prairie farmlands, wooded back country trails and nature at its finest! We offer, all inclusive special packages tailored for your pleasure. Each new day, you will awaken to the aroma of gourmet coffee, or tea, home-baked delights, fresh fruit in season and a full candlelight breakfast.
Bed & Breakfast Amenities include Victorian all-season spa, torchlight croquet, evening bonfires, pumpkin carriage rides, fresh garden produce, berry picking, bird watching, star gazing, special event receptions, and small weddings.
Escape into timeless elegance, experience outstanding service, exceptional cuisine and superb accommodations! Nominated for North Dakota Travel and Tourism Leader Award 2000.
Mountain, North Dakota
1884 Historic Vikur Church, The first Icelandic church in America
August the Duece, Icelandic Festival, held in August
Borg Pioneer Memorial Home, home to several of our Icelandic pioneers
Mountain, North Dakota is in Pembina County of northeastern North Dakota.
88 miles northwest of
Grand Forks, North Dakota
Cavalier, North Dakota
Cavalier Air Station - operated by the United States Air Force, the world's most powerful phased-array radar defends the United States and Canada and also tracks satellites from its unique location along the northern border of the United States
Wooded hills of the Pembina Escarpment
Icelandic State Park - fishing, swimming, campgrounds, picnic areas, nature trails, historic homestead
Pioneer Heritage Center - a distinctive tribute to all pioneers who settled here
Walhalla, North Dakota
Valley of the Gods, and spectacular Pembina Gorge
Frost Fire Mountain, fully developed ski area with chair lifts, lodge, and terrific views; the outdoor amphitheater stages popular musicals in the summer at Frost Fire
Public Fossil Digs in Pembina Gorge - Discover mysterious marine creatures of the past, dates available during July - please call for details.
Pembina, North Dakota
Pembina State Museum - focuses on transportation and heritage, featuring regional history from the Cretaceous Age to present
Links
Member of
Awards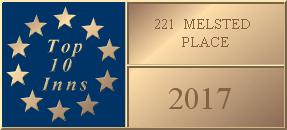 5 star rated on Innsite Directory


Cloaked in snow, 221 Melsted Place Bed and Breakfast is truly magical during the Christmas holidays. A must-see, this B&B becomes a showcase of lavish decorations flowing from room to room in the inn. Festive candlelight and piano dinners or Victorian high teas fill the calendar through the month of December. Early reservations suggested.